Super High Speed Vehicle Gates
MIB 10*-C090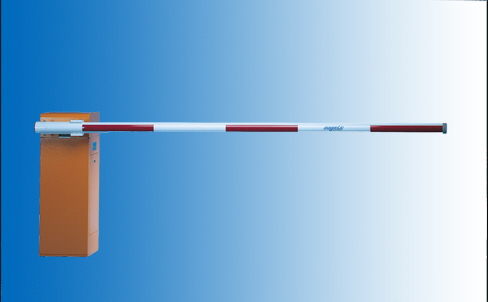 * 0.6 to 3.0 Seconds Open / Close Time
* 115V, 60Hz, 400 Watts
* RAL 2000 Orange (Standard)
* Includes Standard Octagon Flange
* Built-in Hall Sensor for Precise Barrier Arm Status
* Up/Down/Normal Switch
* Convenience Receptacle
* Integrated Extra Sensory Device Feature
* RS422 Output
* Maximum Arm Length 10 Feet
* Many Boom/Flange Options Available
MIB 20*-C100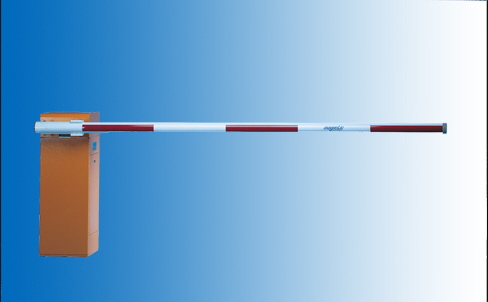 * 0.9 Seconds Open / Close Time
* 115V, 60Hz, 240 Watts
* RAL 9010 White, RAL 2000 Orange or RAL 1028 Yellow
* Includes Standard Octagon Flange
* Built-in Hall Sensor for Precise Barrier Arm Status
* Up/Down/Normal Switch
* Convenience Receptacle
* Integrated Extra Sensory Device Feature
* MLC Controller
* Built-in Dual Loop Detectors
* Wide Variety of Pre-programmed Lane Options
* Maximum Arm Length 10 Feet
* Many Boom/Flange Options Available
High Performance Parking Gates
MIB 30*-C100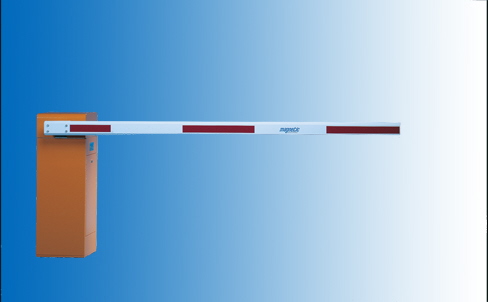 * 1.4 to 1.9 Seconds Open / Close Time
* 115V, 60Hz, 120 Watts
* RAL 9010 White, RAL 2000 Orange or RAL 1028 Yellow
* Includes Standard Octagon Flange
* Built-in Hall Sensor for Precise Barrier Arm Status
* Up/Down/Normal Switch
* Convenience Receptacle
* Integrated Extra Sensory Device Feature
* MLC Controller
* Built-in Dual Loop Detectors
* Wide Variety of Pre-programmed Lane Options
* Maximum Arm Length 12 Feet
* Many Boom/Flange Options Available
MIB 40*-C100
* 4.0 Seconds Open / Close Time
* 115V, 60Hz, 120 Watts
* RAL 9010 White, RAL 2000 Orange or RAL 1028 Yellow
* Includes Standard Octagon Flange
* Built-in Hall Sensor for Precise Barrier Arm Status
* Up/Down/Normal Switch
* Convenience Receptacle
* Integrated Extra Sensory Device Feature
* MLC Controller
* Built-in Dual Loop Detectors
* Wide Variety of Pre-programmed Lane Options
* Maximum Arm Length 20 Feet
* Many Boom/Flange Options Available
General Purpose Vehicle Gates
MBE 35*-C100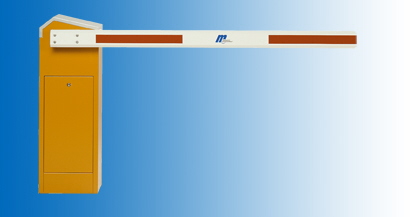 * 2.3 to 2.8 Seconds Open / Close Time
* 115V, 60Hz, 65 Watts
* RAL 9010 White or RAL 2000 Orange
* Includes Standard Octagon Flange
* Up/Down/Normal Switch
* Convenience Receptacle
* MBE Controller
* Wide Variety of Pre-programmed Lane Options
* 6 Inputs / 4 Output Relays
* Maximum Arm Length 12 Feet
* Many Boom/Flange Options Available
MBE 50*-C100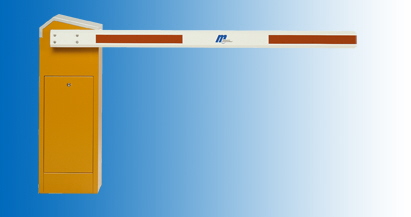 * 4.6 to 4.9 Seconds Open / Close Time
* 115V, 60Hz, 65 Watts
* RAL 9010 White or RAL 2000 Orange
* Includes Standard Octagon Flange
* Up/Down/Normal Switch
* Convenience Receptacle
* MBE Controller
* Wide Variety of Pre-programmed Lane Options
* 6 Inputs / 4 Output Relays
* Maximum Arm Length 15 Feet
* Many Boom/Flange Options Available
Wide Lane Vehicle Gates
MTS 8*-920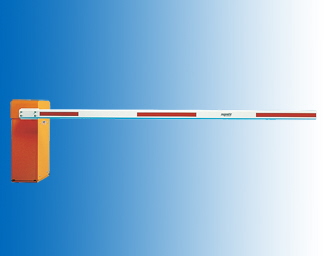 * 8.5 Seconds Open / Close Time
* 115V, 60Hz, 250 Watts
* RAL 2000 Orange
* Includes Oversized Octagon Flange
* Up/Down/Normal Switch
* Convenience Receptacle
* MUB Controller
* Two Single Channel Loop Detectors Included
* Wide Variety of Pre-programmed Lane Options
* Includes Single Limit Switch with Cam for Safety
* Maximum Arm Length 33 Feet
* Several Boom/Flange Options Available
MHS 8W-***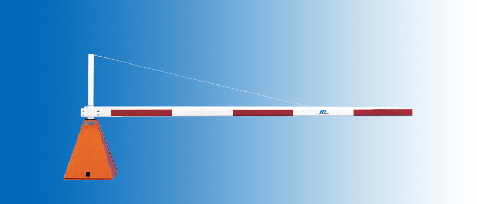 * 40 Seconds for 90 Degree Horizontal Swing
* 115V, 60Hz, 580 Watts
* Pyramid Shaped Housing in RAL 2000 Orange
* Two Removable Doors
* Convenience Receptacle
* Controller for Dead Man Function
* Open / Closed Indication
* Maximum Arm Length 33 Feet on Each Side
* Several Boom Options Available
MOTORCYCLES:
Sometimes, motorcycles have problems with exiting from parking lot gates. That is not due to a problem with the motorcycle.
Many cyclists utilize their machine as a daily driver, just like others do with a car and park in a multilevel parking garage (sometimes even having a monthly parking pass). A problem that they can experience is being able to leave the parking lot by passing through a parking lot gate, just like a car would do.
Sometimes a motorcycle will not trigger the parking lot gate's sensor which requires repositioning the motorcycle in the parking lot gate's approach path, or asking a parking lot attendant or security officer to manually trigger the parking lot gate into the open position.
The sensor that operates the parking lot gate is typically installed in the roadway, or sometimes on top of the road's surface. These are called parking lot gate loop detectors. For improved passage of motorcycles through parking lot gates, contractors can make sure to locate a section of loop across the middle of the lane where most motorcycles pass.
If the parking lot gate is used in a garage, it can have the same issues. If the parking lot gate fails to open, try to approach so that the motorcycle itself is over any kind of slit or cut in the road surface. That is where a metal detection loop may be installed.
A motorcycle's metal content is less than that of a car, requiring the motorcyclist to focus attention upon placing their vehicle's metal directly above the loop detector's wire for best detection.
After a parking lot gate opens, the cyclist should pass through quickly to avoid any strike with the arm as it comes down. Most parking lot gates have a reversing sensor that will make the arm come back up if it encounters contact with anything on the way down.
If a motorcyclist has a recurring problem with the same parking lot gate over and over, they can ask management or owners to adjust the sensitivity of the parking lot gate's loop detector. They can be adjusted to sense smaller and smaller pieces of metal (steel is sensed more readily due to its magnetic interference).
There are also other techniques that an owner / manager of a parking lot gate can do such as provide regular clients with a pass card that can be swiped, or the installation of a photo-eye can detect anything that passes between its sensors to open the parking lot gate.
Since motorcycles use a lot of aluminum, it is advisable to install a custom steel plate at the bottom of the motorcycle's chassis / frame for better detection. There are products on the market specifically made for motorcycles and bicycles to mount to their bottom sides for better detection at stop lights and parking lot gates.
Sometimes the owner of a parking lot gate won't mind cutting the up/down arm off to be shorter, still blocking the path of cars and trucks, but allowing motorcycles to pass without even triggering the arm to activate.